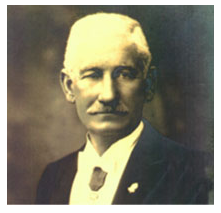 Michael Joseph Duffy
Michael Joseph Duffy, the Firm's founder, moved to Cobar in far west NSW shortly after graduating as a Solicitor in Sydney. He became Cobar Councils solicitor in approximately 1898, and shortly afterwards was elected as an Alderman.
In 1910, after serving 12 years as an Alderman, he was unanimously elected as Mayor (a position that was elected by Council on an annual basis). He held office in the years 1910, 1912, and 1915-1924 when he moved to Dubbo.
He led the community of Cobar throughout World War 1 and beyond, championing the town's industries and lobbying the state government in Cobar's interest. During the War, Michael was also the President of the Cobar Soldiers' Red Cross Association and was active in the District Hospital Board. He was also one of the first members of the School of Arts. In 1920, he was made Knight-Commander of St Gregory by Pope Benedict XV. All while running a thriving law practice!
After moving the legal practice to Dubbo in 1924, he again stood for Dubbo Council in 1925, becoming an Alderman and was elected Mayor the year he died. (ref: From the Far West to the Western Front – Cobar and the Great War by Kay Stingemore)
The image is from an edition of the Catholic Press, published 24 October 1935.