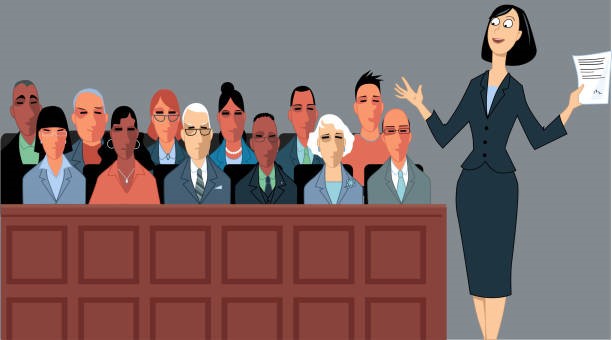 Jury Duty
If you are lucky enough, you may at some point in time be included on a jury roll which means you can be summoned to serve on a jury over the course of a year. This is an important civic responsibility.
There are a number of categories where you are considered automatically ineligible to serve on a jury. These include if you are:
Unable to read or understand English;
A person who currently is, or in the last 3 years has been a Police Officer, or a person with access to information related to inmates or detainees;
An Australian Lawyer;
Undischarged bankrupt;
A currently disqualified driver;
A person who has served any time in prison in the past 10 years (except for non-payment of fines)
A person who has served any time in a detention centre or other institution for juvenile offenders in the past 3 years (except for non-payment of fines)
Currently bound by any order pursuant to a criminal charge or conviction including a parole order, community service order, apprehended violence order, or a good behaviour bond
The ombudsman or deputy ombudsman;
A member of the Legislative Council or Legislative Assembly;
Unable to discharge the duties of a juror due to sickness, infirmity or disability;
A member or officer of the Executive Council;
Engaged in the public sector in law enforcement, criminal investigation, provision of legal services in criminal cases, or administration or justice or penal administration;
A person who at any time has been a judicial office, coroner, Crown Prosecutor, Public Defender, Director or Deputy Director of Public Prosecutions or a Solicitor for Public Prosecutions.
Did you know you can claim an exemption from serving on a jury if you are:
Living more than 65km from the place you would be required to serve;
Caring for children under the age of 18 who are still attending school (unless you are in full-time employment);
Unable to discharge the duties of a juror due to an age-related issue or medical condition;
Engaged in fire, ambulance, rescue or other State emergency services (excluding casual or voluntary)
A vowed member of any religious order or clergy;
Residing with and caring full-time for a person with health issues or a disability;
A sole trader or contractor whose livelihood will be affected;
A practising dentist, medical practitioner, or pharmacist;
Entitled to an exemption on account of previous lengthy jury service (section 39, Jury Act NSW);
A person who has attended and was available for jury service in the past 12 months, or served as a juror in the last 3 years.
You may need to provide supporting documentation as proof.
Check out: https://juror.nsw.gov.au for more information.